"Frenchy Flamingo" - miniature drawing (SOLD)
Title: "Frenchy Flamingo" (SOLD)

Date: Jan 31, 2006

Medium: Prismacolor Colored Pencil & ink

Paper: 100lb Smooth Bristol

About this Project: This is not meant to be a lesson, I'm just showing a work in progress =) This is Small Format Art (SFA) - artwork that is under 14" in any one direction.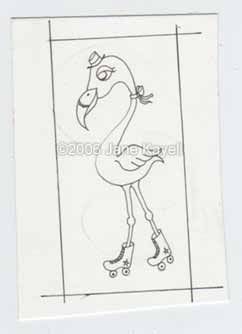 Pic 1: The flamingo is inked, and I started the background in pencil using one curvy line. The rest of the background will be done freehand using ink only (no pencil).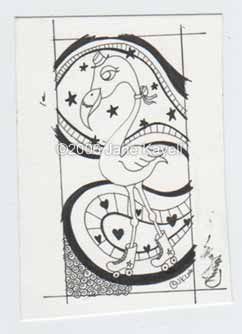 Pic 2: I've started adding a bunch of funky designs to the background.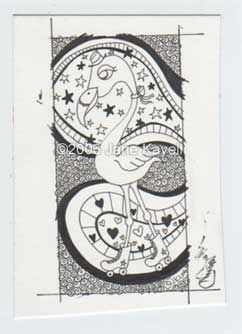 Pic 3: Added more detail to the background...this took a while.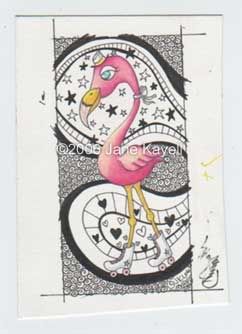 Pic 4: Now I've started coloring the flamingo.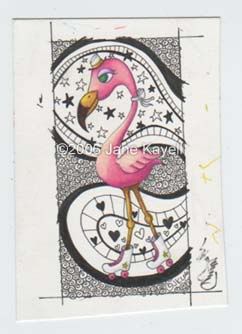 Pic 5: Here the flamingo is almost finished, I added more color & shading to the legs, face, and accessories.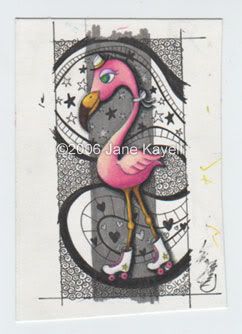 Pic 6: To make Frenchy flamingo stand out more, I shaded a block behind her in gray ink & added a shadow behind her.
Pic 7: I cut off the excess paper & scanned the drawing with a dime for size reference. Finished size: 1.5"x3".